CoopTris
Other games
Description
CoopTris is an compelling, novel interpretation of a well known gaming concept. Enjoy fast-paced multiplayer-action in 3-dimensional surroundings presented in an innovative fashion. Only the most adept and best coordinated teams stand a chance in the fight for the top places in the online highscore-list.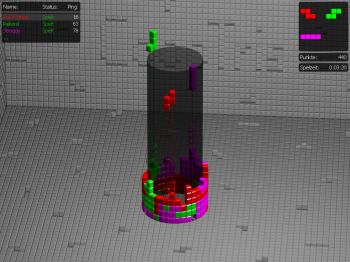 The multiplayer supports up to four players in internet or LAN games. Via splitscreen two players can use a single computer, even to log into online games with other people. Everyone can set up a server for himself and his friends. Joining a game is possible via the integrated, comfortable server browser. A textchat is also available before and during the matches.
The players can move freely in horizontal direction across the 3-dimensional field. This opens up many different approaches and strategies to the game, depending on the way the players divide the field amongst them.
The ranking system, if desired, records the score in an online highscore list, which exists for every team size (1 - 4 players).